Who is online?
In total there is
1
user online :: 0 Registered, 0 Hidden and 1 Guest
None
Most users ever online was
296
on Wed Apr 28, 2021 9:44 am
: Ok so they actually did it! The saga continues and they didn't ditch the custom character creation either! After a cold long crash of the 5th game, this one kind of is bringing the feel back to when it was good; being between 2 and 3 for my tastes, but its actual timeline is between 1 and 2, yet as you follow up the direct start-up as recommended, this time Zasalamel greets you right away (no really! He's not against you right away anymore now) and he even gives you boss powers quite early! The rest trugs on like how it did in Soul Calibur 2 this time but with elements from 3 and even homage to SoulBlade!
Anyway though enough spoiling, to cut it short, yes Soul Calubur 6 starts off much better than 5 did, and actually has quite a good story mode for both original characters as well as for you too. There's quite a decant crew here, but I do believe there's room for more, also a few missing faces came back out of retirement! Woot! Aside of that though some stuff for familiar faces have changed quite dramatically, they're not the same as they used to be before.
The downer? there's not a lot of stuff in character creation this time around, perhaps yet, also the hairstyles are still bad....
_________________
Queen of Heavenly Solace. Cold to the core.
"Better to have a cold core than to not have one at all..."


Alala Kuran

Dimensional Admin





Age

: 33


Number of posts

: 2540


Location

: Newsan Diego


Registration date :

2007-10-15

Character sheet


Race

:

Newman




Personal Title

:

Crimson-Crystal Core




.

:

WARNING 0%



This is going to be a new signature later on! Ah well anyway
more info here, and some videos coming too of me (not doing so well) fighting some rats and even bosses.
Personal tastes of things are as I feel:
Good:
Story mode now has a focus on you this time as the hero and it's far better than SC4 (or even Broken Destiny) this time, even than SC3 personally! (Cutscenes included)
Really Good:
Some stuff is noted to still appear in the future, hopefully faster than it did in SC5, and more hopefully a lot more things than in such previous game this time! (but it's all about the waiting game....)
-I can finally use half if not better power than Algol himself now... Take THAT you pesky rats! Feel my power! You will FEAR the FONewearl!
Bad:
Lacking in character creation stuffs (told that this is gonna change later on so I can wait or just trug through.),
Geralt is annoying when a boss lol (ouch! Don't piss off the Witcher!
),
Killik has a chance to go Boss and he now has a "Final Form" now and he means business (I don't think he can be found and used....) as a freaking Lvl.70 Boss!,
Xianghua also can go Boss for the first time and she too has a "Final Form" but no appearance change for her (but if you think her "Infinite Soul Charge" is just for looks, you're up for some pain because she's taking it like Ultimate Armor X, and hurts a lot worse when she hits stuff! Not sure but I think she's faster too a bit. She can't be unlocked... well I dunno how.....?)
There's still an online-focus stuff going on with this game, they made it easier for others to hook up... (have fun though, you'll never be seeing me around those parts however lol!
)
Really Bad:
Trying to unlock stuff is a royal pain, and there's not really much to go off of yet either. (Que word: Yet)
Azwel is a major troll if you get rekd by him in his "Final Form" (lol!)
Some enemies in the story mode are invincible, the only way you can destroy them is by banning them via Ring-Out but good luck with that because they'll only just be rage-inducing material, seriously! (was the first time I actually had to rage-quit in an aborted mission was just way too God-Damn annoying!)
---
Current stats in Soul Calibur 6 of me:
Custom characters: at least ~18 to 20, about 3 to 5 are my mains.
Shared Character:
"Take an obvious guess...  
"
Style: Zasalamel (can't go without that scythe! Glad to have it back too!)
Race: Human
Updates?: Pending for sure!
Main character: *image coming soon!*
Style Arsenal- (there's some heavy changes to stye mastery in my book now! New game? New plans!)
Best: Xianghua (always will be my main!)
2nd: Azwel (freaking Boss powers!)
3rd: Nightmare (some reason yes Nightmare's weapon suits me best with a "Sweet Darkness".... yes I have Holy yet use dark powers at the same time lol how odd is that?!)
4th: Zasalamel (need to reboot training! His stuff is completely different for Ara to use!)
Libera of Souls Stats:
Characters: 3
Main Character: *self
Race: Elf (Hidden Village)
Gender: Female (duh!)
Weapons: Xianghua and Azwel's sets are Mastered
Level: 82
Zone Progress: Stage 6 - 0 (after Azwel's Final Form defeated for the first. I almost feared I ended up with the same crappy Radiant Mythology ending in where "ok I've bagged the big boss, time to self-destruct..." but Zasalamel objects this and it's off to the next chapter! He's quite big-hearted though still cold as usual this time around, making him more likeable in my book!)
Unit 2: Arala
Race: Beast Outcast
Gender: Female (naturally!)
Weapons: Zasalamel's style suits her best for now, Azwel's is next in line I guess?
Level: 04 (just started)
Zone Progress: Stage 1-2 (after she had to fight Maxi for a bit, a Monk is next as a miniboss)
Unit 3: Ryoto
Race: Lizard (an intelligent lizard, think like Argonians from Skyrim!)
Gender: Male
Weapons: Cervantes's blades because he can shoot stuff, lizard with a gun!
Level: 04 (also initiated)
Zone Progress: Stage 1-1 (not too far from Ara, but he didn't get to Maxi yet unlike she already did face him)
Notices:
*All characters share my arsenal of weapons! If I find stuff, my vassals get them too!
*Meset-- oops I mean Gold (lol sorry) is not shared with everyone, to each his/her own.
*Leveling is for each person himself/herself.
*Enemies will be a royal pain in the ass if you're trying to go "exploring" and constantly get in the way with some nasty boosts for themselves, if they spam raids you will have trouble as they wear your HP down permanently until you reach your target destination or if you waste food items to steal their HP back or heal yourself in the middle of the fight (but God help you if you have to deal with an asshole who is stupid-annoying that decides to not piss off and just ruin your day)
*Stages you have already cleared, including boss battles can be redone but you can not get any other bonuses than just a major cut-down payout of Gold (i.e: a Boss you faced paid you 1K to 2K, but they will later only pay you about 120~240 gold instead from then onward)
*??* It's unconfirmed if beating a previous stage already done by your main protagonist with another hero/heroine behind you in the story will double the unlock bonuses...
*??* I really don't plan to find out what happens if you fail and die in a mission (which some cheapsakes will toss you off of a cliff if they're being a dick for a cheapshot, freaking assholes!) but hopefully it won't be a nasty penalty? I'm unsure what blights happen but there is notes if you are murdered, you will lose your pay and be tossed back to the start of the exploration, no idea of a main mission / Boss Fight....
_________________
Arala: "..............."

Arala Cran

Sexy Shikigami Goddess (Admin)





Age

: 33


Number of posts

: 812


Location

: *not telling! :P


Registration date :

2007-10-18

Character sheet


Race

:

Tatari/Replica




Personal Title

:

Scarlet Baron




.

:

WARNING 0%



Some sample pics of me in different appearances:
Here's my actual appearance in game!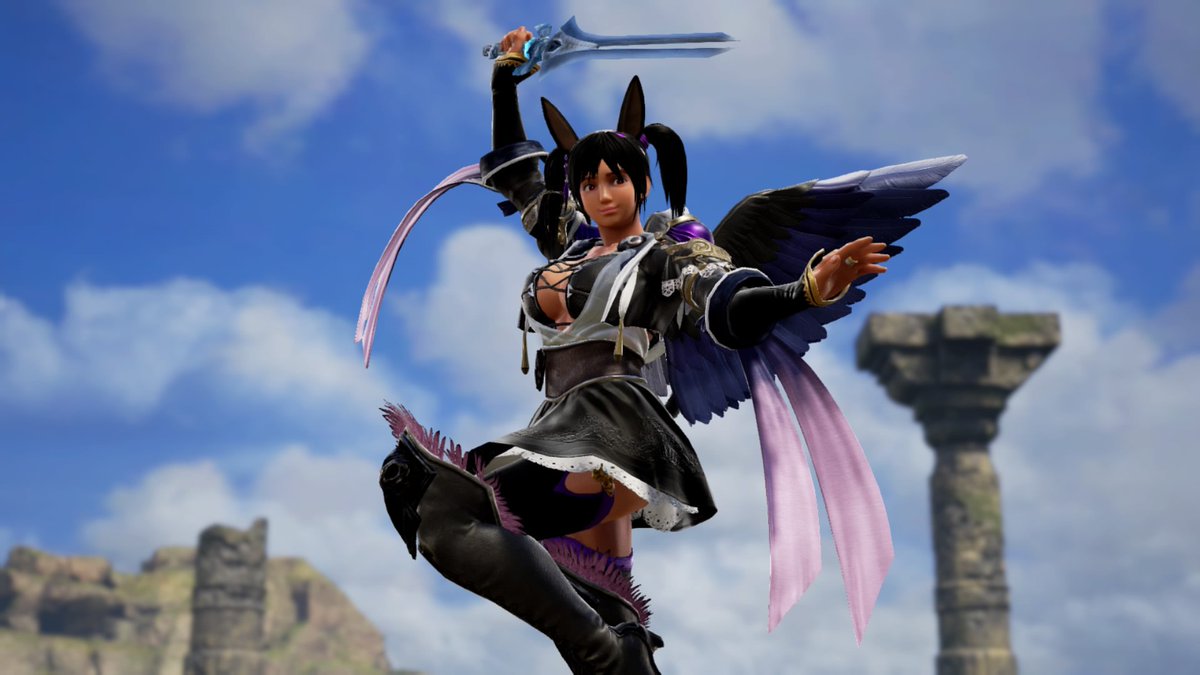 Sexy but I hate short hair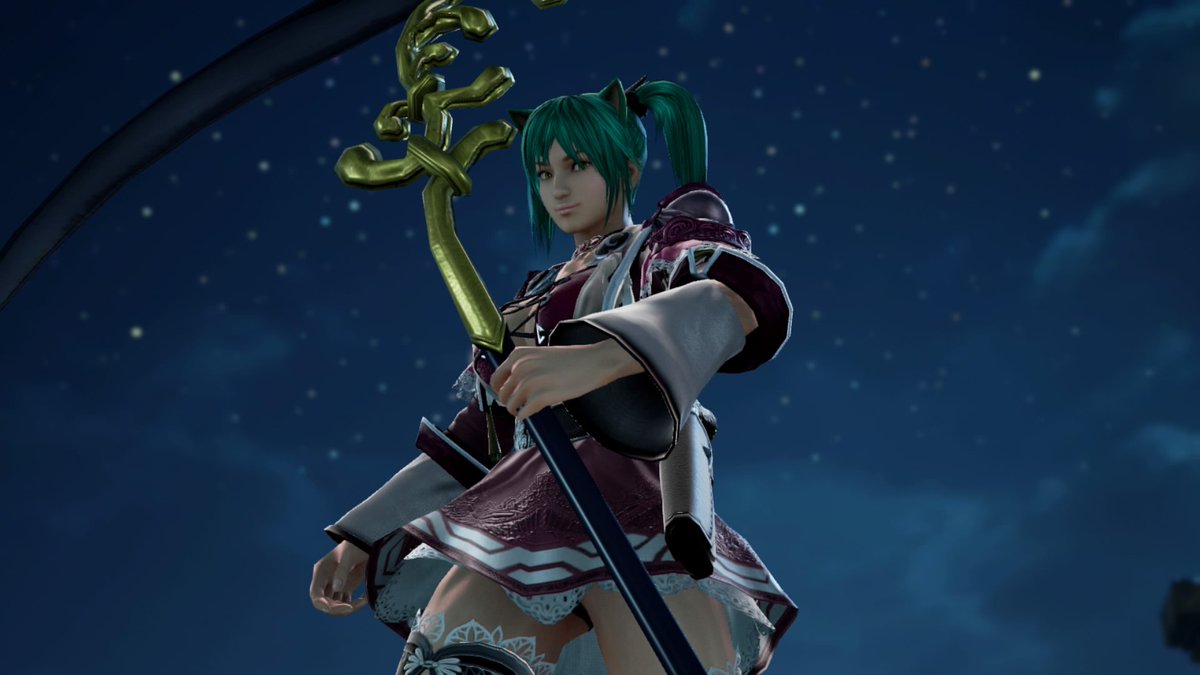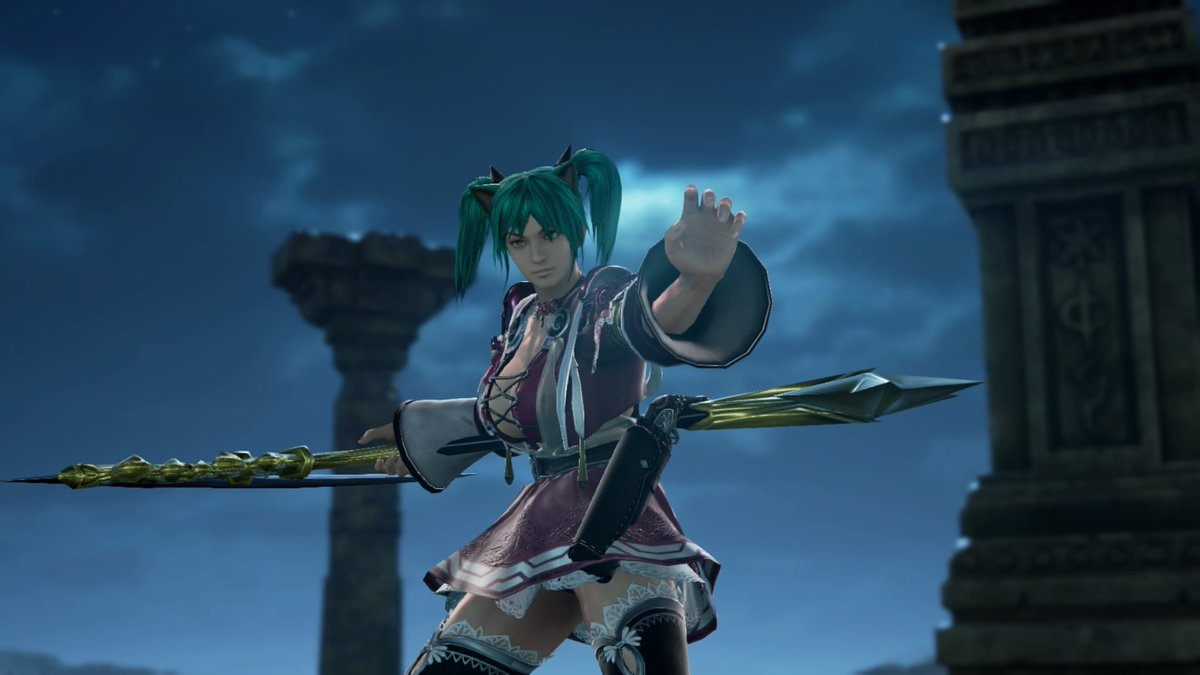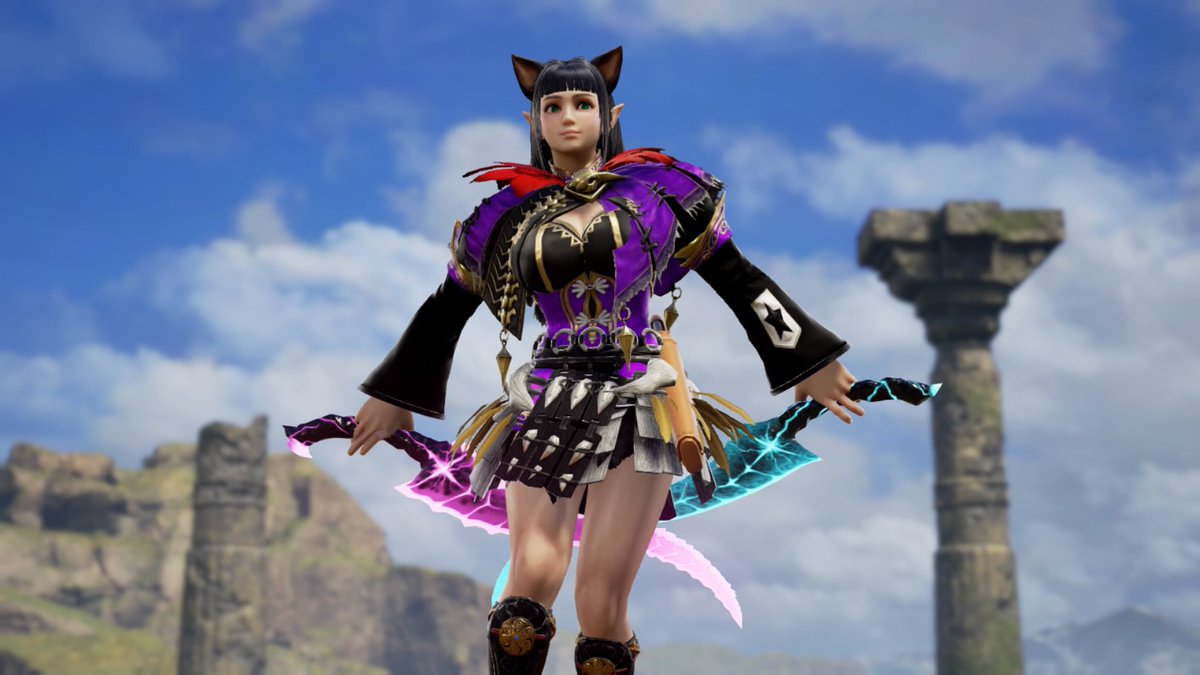 Newmans are here as "Hidden Forest Clan" members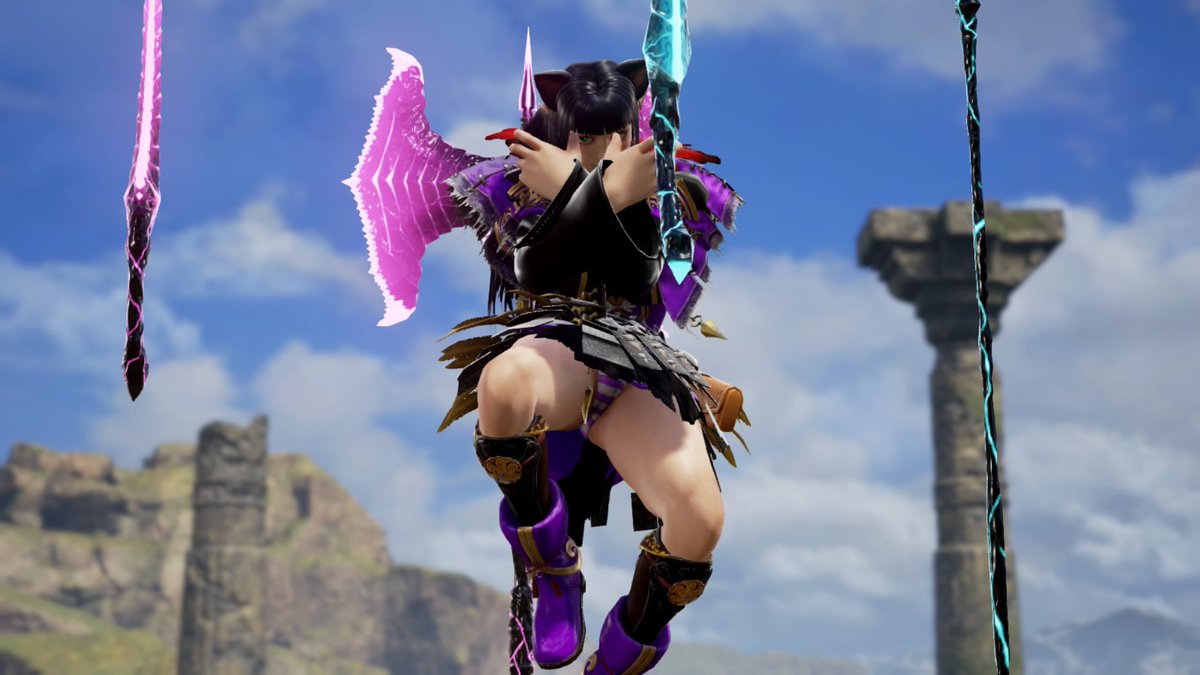 ....
_________________
Arala: "..............."

Arala Cran

Sexy Shikigami Goddess (Admin)





Age

: 33


Number of posts

: 812


Location

: *not telling! :P


Registration date :

2007-10-18

Character sheet


Race

:

Tatari/Replica




Personal Title

:

Scarlet Baron




.

:

WARNING 0%



Ok so here's a recent update (well not-so recent):
They actually did add 2B from Nier Automata as a (boss) character who can be playable as well as the fact she shares her arsenal with you as a custom character too. 2B also handed out free items for everyone and allows other girls to wear 3 outfits from her directly.
Her skill arsenal allowed for custom protagonists lets them use her dual swords as well as a free little Mag (well Bot) who can attack with them using lasers and machine gun fire from a distance or up-close, as well as can grab and slam the person's enemy painfully from mid-range. 2B's moves are quick and can easily combo but power up with soul charge mode and then assaults become lethal including extended combos and many moves become guard-breaker types. Her skills are also medium-fast which is great for keeping up with some pesky combo-enthusiast enemies while staying aggressive albeit not as powerful as Azwel's moves, yet are somewhat a bit easier to utilize. A downside is that she's not too top-of-locker with jerks at super-close range (but not as vulnerable as Zasalamel or Azwel), and then there's also her trademark Kamikaze attack with the black box. If used, can result in an almost instant death of both player and enemy/boss (not sure, but I do know for 2B or protagonists using her set that it will almost kill them, ouch!) so be sure to have landed blows on the enemy first before having to use her last resort! If in training mode, your heroine will lose her clothes while barely standing back up half-fried but without blemish (lol) but getting rid of her enemy via ring-out or whatever will get her clothes back
-even without her, they have bought a few new outfit parts although not much: the halter bikini is back and still looks nice, there's also a school swimsuit which was shown in the pre-release images before now usable for girls too. Boys now have more of Groh's attire (and even girls now have a bit of stuff from him but that looks girly because of his hired agent I guess) known as the "Purge" sets.
-I think some of the moves from characters have been nerfed and are no longer as powerful anymore and it's a bit harder to pull off Lethal Strikes with Azwel's Snipe-Spear attack (a bit of like Noctis's Warp Strike, FF-XV much? I believe so because they secretly got in here, hence 2B is here to stay now lol)
_________________
Queen of Heavenly Solace. Cold to the core.
"Better to have a cold core than to not have one at all..."


Alala Kuran

Dimensional Admin





Age

: 33


Number of posts

: 2540


Location

: Newsan Diego


Registration date :

2007-10-15

Character sheet


Race

:

Newman




Personal Title

:

Crimson-Crystal Core




.

:

WARNING 0%



---
Permissions in this forum:
You
cannot
reply to topics in this forum